RMSAAM INSTRUCTORS
Lynn Faberstrom
Lynn is a Senior Canine Massage Therapist and a graduate of RMSAAM. She joined the staff as an instructor last year. Lynn has studied Canine Trigger Point, Rolfing, TTouch and essential oils. She is constantly learning and increasing her ability to connect with the animals she works with.
A college graduate with a degree in Management Information systems, she quickly realized the office environment was not for her and spent 2 decades in the airline industry which although it enabled her to travel the world, was not fulfilling for her spirit. She then began silversmithing and designs and fabricates jewelry and create pieces using ashes, pet and human. Lynn's journey into this field of Holistic therapy began unknowingly…
Lynn has fostered and adopted several dogs through The Mile High Weimaraner Rescue. As we know most dogs have some baggage when they are rescues and one of her dogs, Rudy, came with severe malnourishment and had many health issues. She consulted with several Veterinarians who were unable to help him. She began looking into holistic healthcare for him and met many wonderful people, who helped her get Rudy back to health and live a wonderful life. This was the beginning of her journey. As she began learning more, she eventually met Tracy, the school's director and realized she had found her niche.
Lynn loves teaching people has learned and especially loves seeing the results in the animals.
Elena Bajona
Elena is an equine applied behaviorist & therapist, specializing in equine welfare, cognitive behavioral therapies and massage for horses. Her work in the rehab and physiotherapy field addresses both physical and psychological issues. She is a talented trainer with strong international experience in the horse industry.
With extensive experiences abroad (USA, Canada, Saudi Arabia, UK and Germany) in 2002 she founded Animantia, a private Academy of equine behavior studies based in Italy with a branch in Idaho. As a teacher and Applied Equine Behaviorist she dedicated 18 years to teaching equine behavior through specialized courses for individuals and professionals. At the same time she founded the first ethological equine facility in Italy where she worked with thousands of horses:  training, natural foal taming and problem solving through behavioral therapies. She attended the Academy of Equine Dentistry in Idaho as a free-lance professional supporting the the education of equine dentistry students. She organized specialized courses for equine applied behavior in relation to the horse management during dental work.
Since 2004 she organized Wild Horse safaris, in natural pristine settings, open to researchers/students and wild horse enthusiasts. In 2010 she discovered some wild horses in Italy. She spent years within the herds teaching natural behavior to her students. The focus was on the importance of observation and study of wild horses in their natural environment. This was a unique way to understand their behavior and emotional/social lives.
A fervent believer of the preservation of all creatures in the wild she cooperates with Return to Freedom Wild Horse Sanctuary to share her knowledge and experience in order to improve the welfare and quality of life of all rescued Wild American Mustangs.
In 2020 she joined the Rocky Mountain School of Animal Acupressure and Massage as a guest instructor to continue spreading her knowledge to help people and horses.   
Beth Pelosa, Instructor, Large & Small Animal Acupressure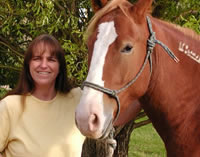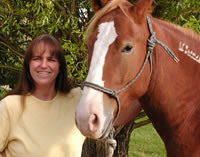 Beth is a Certified Large and Small Animal Acupressure Practitioner, Animal Acupressure Instructor, and owner of Equine Energy Works, LLC. In addition to Traditional Chinese Medicine (TCM) and Acupressure, Beth has also studied Dr. McLaren's Photonic Light Therapy and other vibrational healing modalities including equine massage, Bach Flower Remedies therapy, floral acupressure and aromatherapy. Beth believes in a balanced approach to animal health care including good nutritional support, exercise, natural training techniques and regular preventative maintenance acupressure and vibrational energy work. Beth's passion is teaching animal owners and caregivers TCM and animal acupressure to help them support their animal's health, experience the strong bond and cooperative partnership energy work creates with animals.
Megan Steele, Instructor, Equine Massage, Level 1
Megan is a Colorado native. Her passion for horses began at the tender age of eight, when she started riding lessons. Her path in equine studies continued and she attended Colorado State University in their Equine Science Program. While attending CSU she worked as an Animal Care Technician at the Equine Orthopaedic Research Center and also completed internships at two equine rehabilitation facilities. It was then that she began to gain experience in the field of equine rehabilitation. In December of 2015, after completing an independent study in a variety of equine therapies and writing her Senior Honors Thesis, she graduated Summa Cum Laude with a Bachelor's of Science in Equine Science. Megan continued to explore her passion in equine therapy and rehabilitation by attending Rocky Mountain School of Animal Acupressure and Massage and obtained her certifications in Equine Therapeutic Massage, Equine Sports Massage and Equine Advanced Massage in October 2016. One month later she created her business Flights of Angels Equine Therapy LLC.
Gene Devine,
Instructor

, Equine Massage Level 2
Gene has been passionate about animals for over 50 years. After retiring as an Army Intelligence Officer in 2007, Gene pursued his passion as a professional equine photographer and college photography instructor in Arizona. Frequent travels to Sedona fueled a desire to learn about the effects of energy on people and horses from both spiritual and physiological perspectives. While training as a barefoot hoof trimmer in 2013, Gene learned all about the wild mustangs of the Great Basin. This education stoked a desire to learn all he could about equine behavior, health, wellness and balance. Gene received certification in Bio-Energy Analysis and Release from Dr. Regan Golob in 2018, and massage certification from RMSAAM in 2019. In June of 2019 he began his own business, Mana Mountain Equine Bodywork, and enjoys trail riding in the mountains of Colorado
Heather Ledbetter,
Instructor

, Equine Massage Level 2
Heather has been a horse enthusiast her whole life. She began working with horses around 2009 taking hunter/jumper lessons and then began working as a trainer's assistant. She went on to be a horseback trail guide, beginner horsemanship and riding instructor, and had a brief job as a professional groom before deciding to pursue her career in equine massage therapy. She earned her massage certification in 2014 from RMSAAM and began her own massage business. She continued her education through an equine rehabilitation internship and has enjoyed studying many different modalities of bodywork in order to always evolve and improve her massage practice. Working with horses is still her passion outside of her business and family life. In her free time she enjoys showing her own horse in local English Pleasure shows, participating in cow clinics, and trail riding all over Colorado.
Nicole Linke, Instructor, Equine Massage Level 3
Nicole has always had a profound love of animals. She was first introduced to animal bodywork and holistic healing modalities early in life while watching her father work with animals; bringing balance and health to their dis-ease. During this time, she was taught to develop her own skills on how to see, feel, and work with healing energies and the powerful effect of nature's medicine. At this young age, she knew that helping animals facilitate their own healing would be her life path. Animals have always been Nicole's greatest teacher. In 2009, her beloved mare, Deja, had a sudden near-death illness. Throughout Deja's rehab, Nicole witnessed the profound effectiveness of holistic modalities and bodywork. This experience inspired her to learn even more and become an equine and canine bodyworker.
Nicole completed the RMSAAM program for Equine and Canine Massage. In addition, she is certified in Visionary Equine Craniosacral, Joint Mobilization, and has studied herbs for animals, biomechanics, homeopathy, whole food nutrition, and myofascial release at home and abroad in Australia.
Gillian Edwards, Instructor, Canine Massage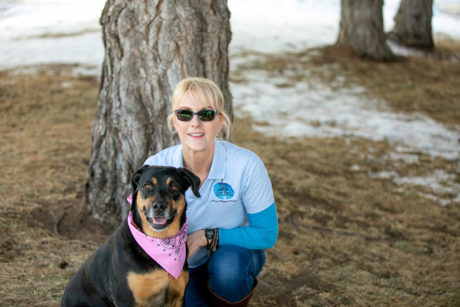 A Colorado-based animal communicator, Karuna / Reiki Master, and a RMSAAM canine massage alumni, Gillian provides long term big-picture holistic healing solutions for pets to activate their natural ability to balance and heal their physical, emotional and mental well-being. With the belief that holistic therapy is centered on love, empathy and respect, Gillian uses her knowledge and skills to help improve an animal's health and happiness, which can strengthen and deepen their connections to their human companions.
Growing up in England and living on three continents provided Gillian with an understanding of how traditional, alternative and holistic therapies can work together to help heal the mind, body and spirit. After a long, successful, executive career in corporate America, She began her dream career practicing Reiki on human clients before realizing that animals needed her gifts more so. She started her own animal practice Four Paws Holistic Therapy a few years ago and is now fully focused on helping pets achieve a longer quality of life by spreading the knowledge of collaborative pet health benefits through educational seminars and pop-up clinics.
Gillian is a professed animal lover, volunteer, and adoption advocate, rescuing numerous pets throughout her lifetime. This includes Zena, a 6-year young Rotti/Lab/Aussie mix who pushed her to share her passion for making a positive difference in the lives of animals and their humans.
Gillian teaches Canine Massage as well as "MARKET AND GROW YOUR BUSINESS" for RMSAAM
Frances Cleveland, Guest Instructor, Aromatherapy and Essential Oils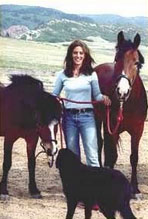 Frances Fitzgerald Cleveland has worked with horses for more than 25 years in a range of disciplines. Her aspirations started with horses and grew to include people and other animals. In 1996, Frances founded her company, FrogWorks. She has always aimed to heighten the well-being of people and animals naturally, through individualized use of essential oils.
Frances has extensive experience in the realms of health and behavior as it relates to both animals and humans. She obtained certification from the Institute of Dynamic Aromatherapy and the International School of Animal Aromatics. Frances studied in England with Caroline Ingraham, the pioneer of Animal Aromatics. Frances is an apprentice of Rosemary Gladstar, world renowned author, herbalist and teacher, and has completed the intensive Apprenticeship Program and the Science and Art of Herbalism Program in the didactic, therapeutic, laboratory and fieldwork in herbalism.
Frances recently trained zookeepers in the use of essential oils on animals. Her groundbreaking Animal Aromatherapy work at The Denver Zoo with the Orangutans, Gorillas and Black Crested Macaques was covered in the Denver Post and L.A.Times. Frances work has also been written about by the Rocky Mountain News, Associated Press, The German Press and a featured guest on Animal Radio. This work showed excellent results, which confirm the effectiveness of essential oils. These magnificent animals clearly demonstrated which oils they wanted, when they wanted them and how they wanted them applied. They have truly been teachers about how these oils can help them.
Her specific expertise, her love of animals and people, and her commitment to natural healing make Frances a respected and highly effective Aromatherapist. Frances and her husband, John, live in Colorado and operate a horse facility, Outback Farm, where Frances teaches and practices Aromatherapy, trains horses, gives riding lessons and manufactures her internationally sold products.
Anna Twinney, Guest Instructor, Animal Communication
Throughout the United States, Australia, Europe, Denmark, Canada, Holland, Sweden, Norway and New Zealand, Anna Twinney has conducted classes, clinics, and training sessions; teaching the art of creating trust-based partnerships between humans, horses, and all other animal companions. Anna is a well-respected and internationally known Natural Clinician, Trainer, Animal Communicator, and Reiki Master.
Based in Golden, Colorado, Anna is the founder of Reach Out to Horses?. Her dream is to take her organization around the world and especially in third-world countries, working with people and their horses, teaching them about her ground-breaking methods. Drawing on a lifetime of equine knowledge and experience, and over ten years of coaching international students, some with learning disabilities and physical challenges, she has imbued her clinics with a wealth of information, integrity, and compassion.Anna is also the creator of the Reaching Out to Natural Horsemanship DVD Series and can regularly be heard on radio and podcasts around the world including her popular podcast show Reaching Out with Anna Twinney. Anna's interview about Animal Communication can be heard on the Canine Wellness Radio show:http://www.blogtalkradio.com/caninewellness/2011/06/13/animal-communication-interview-with-anna-twinney.
Her work has been featured on TV, including Martha Stewart's "Living", "The Horse Whisperer" and the BBC fly on the wall documentary "Living in the Su". In addition, Anna has written articles for a variety of national and international equine-related magazines, and is a contributing author of Horse as Teacher: The Path to Authenticity with Horses, released in May of 2009.Anna has also worked in collaboration with other leading clinicians on natural horsemanship and animal communication. Beyond her own equine training and experience, Anna has explored a number of 'alternative' healing modalities over the years, including becoming a certified Karuna Reiki Master and Intuitive Healer. She has studied Equine Herbal Natural Remedies and Aromatherapy, is a certified Reconnective Healing Level III practitioner, Level II Healing Touch for Animals practitioner, and a graduate of the Carol Gurney HeartTalk Program as a certified Animal Communicator.One of Anna's great passions is the survival and protection of wild horses, and she has been privileged to observe Brumbies in their natural habitat in Victoria, Australia along with colleague Eric Godward. She also assisted Neda DeMayo in the Santa Ynez Valley at the wild horse sanctuary "Return to Freedom" for a number of years. RTF is home to the American Wild Horse and is considered a living museum. It provides a natural environment for the horses to live in herd groups, and a place students can observe natural wild horse dynamics. Anna was part of the education program and played a significant role in gentling mustangs for special care and foster homes.
She continues to support a number of Charities including the Equine Angels Rescue Sanctuary in Connecticut, the The Horse Protection League in Golden, CO, Zuma's Rescue Ranch in Littleton, CO, and Equine Voices Rescue and Sanctuary in Tucson, Arizona, where she is actively involved as an Advisory Board Member.
Ken Bain, Guest Instructor, Advanced Massage for the Canine Athlete and Canine Trigger Point Therapy Protocols
Ken Bain is a Texas Licensed Massage Therapist and Massage Therapy Instructor, specializing in non-invasive trigger point therapy using massage techniques. Ken is a graduate of the Texas School of Massage, the Institute of Trigger Point Therapy, Pet Massage in Toledo, OH, Massage Awareness in Wellington, FL, and is credentialed in Colorado as a graduate from the Rocky Mountain School of Animal Acupressure and Massage. He is a member the International Association of Animal Massage and Bodywork and the Associated Bodywork and Massage Professionals. After training and competing with canine athletes for over 15 years, Ken realized the importance of massage in keeping these athletes in peak condition. In 2006, Ken started developing trigger point therapy for canines through several years of working on the canine athletes (agility, flyball, and Frisbee competitors). Since 2010, he has been teaching canine trigger point therapy techniques. Besides teaching, Ken has a full time hands-on practice including working regional, national, and international competitions. In 2016, Ken was selected to travel with the USDAA and AKC World Teams as the teams therapist for the World Agility Championships (the Netherlands) and European Open Agility Championships (France), respectively. He has also been selected as a speaker in multiple national and international educational conferences. Ken has been providing bodywork for the canine athlete since 2003.
Â