RMSAAM INSTRUCTORS
Gene Devine, Equine Massage Instructor
Gene has been passionate about animals for over 50 years. After retiring as an Army Intelligence Officer in 2007, Gene pursued his passion as a professional equine photographer and college photography instructor in Arizona. Frequent travels to Sedona fueled a desire to learn about the effects of energy on people and horses from both spiritual and physiological perspectives. While training as a barefoot hoof trimmer in 2013, Gene learned all about the wild mustangs of the Great Basin. This education stoked a desire to learn all he could about equine behavior, health, wellness and balance. Gene received certification in Bio-Energy Analysis and Release from Dr. Regan Golob in 2018, and massage certification from RMSAAM in 2019. In June of 2019 he began his own business, Mana Mountain Equine Bodywork, and enjoys trail riding in the mountains of Colorado
Gillian Edwards, Canine Massage Instructor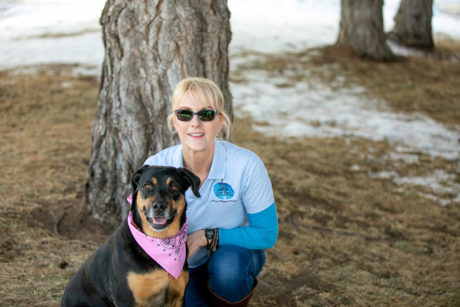 A Colorado-based animal communicator, Karuna / Reiki Master, and a RMSAAM canine massage alumni, Gillian provides long term big-picture holistic healing solutions for pets to activate their natural ability to balance and heal their physical, emotional and mental well-being. With the belief that holistic therapy is centered on love, empathy and respect, Gillian uses her knowledge and skills to help improve an animal's health and happiness, which can strengthen and deepen their connections to their human companions.
Growing up in England and living on three continents provided Gillian with an understanding of how traditional, alternative and holistic therapies can work together to help heal the mind, body and spirit. After a long, successful, executive career in corporate America, She began her dream career practicing Reiki on human clients before realizing that animals needed her gifts more so. She started her own animal practice Four Paws Holistic Therapy a few years ago and is now fully focused on helping pets achieve a longer quality of life by spreading the knowledge of collaborative pet health benefits through educational seminars and pop-up clinics.
Gillian is a professed animal lover, volunteer, and adoption advocate, rescuing numerous pets throughout her lifetime. This includes Zena, a 6-year young Rotti/Lab/Aussie mix who pushed her to share her passion for making a positive difference in the lives of animals and their humans.
Gillian teaches Canine Massage as well as "MARKET AND GROW YOUR BUSINESS" for RMSAAM
Lynn Fagerstrom, Canine Massage Instructor
Lynn is a Senior Canine Massage Therapist and a graduate of RMSAAM. She joined the staff as an instructor last year. Lynn has studied Canine Trigger Point, Rolfing, TTouch and essential oils. She is constantly learning and increasing her ability to connect with the animals she works with.
A college graduate with a degree in Management Information systems, she quickly realized the office environment was not for her and spent 2 decades in the airline industry which although it enabled her to travel the world, was not fulfilling for her spirit. She then began silversmithing and designs and fabricates jewelry and create pieces using ashes, pet and human. Lynn's journey into this field of Holistic therapy began unknowingly…
Lynn has fostered and adopted several dogs through The Mile High Weimaraner Rescue. As we know most dogs have some baggage when they are rescues and one of her dogs, Rudy, came with severe malnourishment and had many health issues. She consulted with several Veterinarians who were unable to help him. She began looking into holistic healthcare for him and met many wonderful people, who helped her get Rudy back to health and live a wonderful life. This was the beginning of her journey. As she began learning more, she eventually met Tracy, the school's director and realized she had found her niche.
Lynn loves teaching people has learned and especially loves seeing the results in the animals.
Heather Ledbetter, Equine Massage Instructor
Heather has been a horse enthusiast her whole life. She began working with horses around 2009 taking hunter/jumper lessons and then began working as a trainer's assistant. She went on to be a horseback trail guide, beginner horsemanship and riding instructor, and had a brief job as a professional groom before deciding to pursue her career in equine massage therapy. She earned her massage certification in 2014 from RMSAAM and began her own massage business. She continued her education through an equine rehabilitation internship and has enjoyed studying many different modalities of bodywork in order to always evolve and improve her massage practice. Working with horses is still her passion outside of her business and family life. In her free time she enjoys showing her own horse in local English Pleasure shows, participating in cow clinics, and trail riding all over Colorado.
Nicole Linke, Canine and Equine Massage Instructor
Nicole has always had a profound love of animals. She was first introduced to animal bodywork and holistic healing modalities early in life while watching her father work with animals; bringing balance and health to their dis-ease. During this time, she was taught to develop her own skills on how to see, feel, and work with healing energies and the powerful effect of nature's medicine. At this young age, she knew that helping animals facilitate their own healing would be her life path. Animals have always been Nicole's greatest teacher. In 2009, her beloved mare, Deja, had a sudden near-death illness. Throughout Deja's rehab, Nicole witnessed the profound effectiveness of holistic modalities and bodywork. This experience inspired her to learn even more and become an equine and canine bodyworker.
Nicole completed the RMSAAM program for Equine and Canine Massage. In addition, she is certified in Visionary Equine Craniosacral, Joint Mobilization, and has studied herbs for animals, biomechanics, homeopathy, whole food nutrition, and myofascial release at home and abroad in Australia.
Megan Steele, Equine Massage Instructor
Megan is a Colorado native. Her passion for horses began at the tender age of eight, when she started riding lessons. Her path in equine studies continued and she attended Colorado State University in their Equine Science Program. While attending CSU she worked as an Animal Care Technician at the Equine Orthopaedic Research Center and also completed internships at two equine rehabilitation facilities. It was then that she began to gain experience in the field of equine rehabilitation. In December of 2015, after completing an independent study in a variety of equine therapies and writing her Senior Honors Thesis, she graduated Summa Cum Laude with a Bachelor's of Science in Equine Science. Megan continued to explore her passion in equine therapy and rehabilitation by attending Rocky Mountain School of Animal Acupressure and Massage and obtained her certifications in Equine Therapeutic Massage, Equine Sports Massage and Equine Advanced Massage in October 2016. One month later she created her business Flights of Angels Equine Therapy LLC.